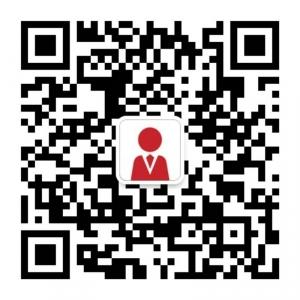 Student guide to staying safe in the UK
As an International student travelling to the UK can be exciting and overwhelming at the same time. You should be aware of the safety and security issues to protect yourself from the unforeseen.
These are some important points you should keep in mind whilst your stay in the UK.
Travel Documents: You should keep your passport, travel documents and tickets safely whilst and after your arrival to the UK. If you lose your passport, you should contact police, Embassy and your school immediately.
Cash, Credit Cards and Traveller's Cheque: You are advised not to carry much cash during your travel to the UK. £500 will be enough to support your immediate needs. Debit /Credit cards and traveller's cheques should be kept safely in a zipped bag. If you lose any one of the items, you should report it to the police immediately.
Contacts: You should keep the telephone number of your school, college, university, or residence in case of an emergency.
Use Labels: You should label your luggage so that it can be delivered to you, in case  you lose its track during your journey. If you lose your luggage at the airport, you should report to the airport authorities immediately. You should also check lost property office to check if it has been delivered there.
Taxi: If you are planning to take a taxi, you should ensure that you take a licensed one. To check whether a taxi is licensed or not, you can check at the back of the taxi to ensure that there is a license plate attached to it. Do not travel with an unlicensed driver in an unlicensed taxi. You can either pre-book the taxi or you can hire the 'black cab' from the airport. 
Insurance: You should get your phone, laptop or other expensive accessories insured before you travel to the UK in case of thefts or accidental damage. Alternatively, you can get insurance in the UK as well. You can get more information about this on your college and university campus. You can also contact your student's union or your bank to assist you in getting insurance. You can register your valued possessions, which includes your mobile phones, bicycles and laptops free of charge with Immobilise Phone Crime. If any of your valuable items is stolen, call +44 (0) 8701 123 123. You will need your IMEI number (15-digit serial number) whilst reporting a stolen phone. You can find your IMEI number either by dialing *#06# or by looking behind the phone battery. Keep IMEI number in your records in a safe place, in case it is required.
Looking after your belongings: There are many do's and don't that you should follow whilst living in the UK. You should: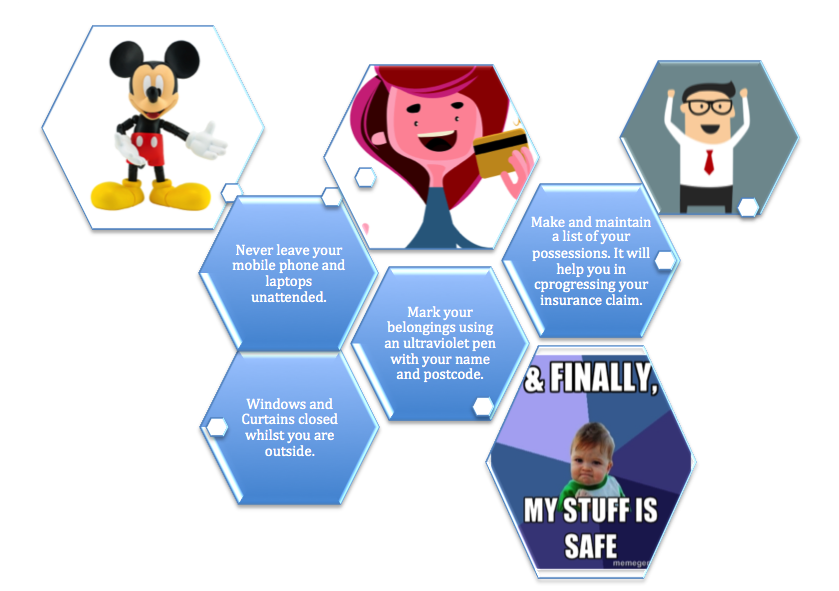 Awareness: You should be aware of your surroundings whenever you are travelling alone. Ensure that you are aware of the local area where you will be living. If you are in doubt, you should talk to the member of the student union. Avoid travelling alone at night, do not flash your phone while you are alone at night, always tell your friend of your plan and avoid using earphones to remain aware of your surroundings. This is a video clip guiding students on how to use cash machines.
Accommodation: Living in a safe and suitable accommodation is very important in the UK. You should check the area before you book a viewing. You can also look at the crime statistics at Crime Statistics of the area you are planning to live. Take someone with you whilst you go to view a prospective accommodation. If you are going alone, leave the address you are visiting and the details of your visit with a friend. You should also check the lock system, alarm system and who else has the access to the accommodation.
Safety on Streets: You should always plan your travel. Pay attention to your surroundings, walk confidently, don't carry large amounts of cash, always keep your bag and coat/jacket with you, take your mobile phone with you always, have your keys ready before you reach your accommodation and avoid confrontation. It's better you do not pursue journey alone under the influence of alcohol. You can also consider buying a personal alarm and carry it in your hand at night.
Public Transport: Always check the time of the last train, bus, tube or tram home to avoid being wrecked at night alone. If you are lost or in need of assistance while travelling by train, find a member of staff or telephone the British Transport Police on +44 (0) 800 40 50 40. To remain safe and alert, do not use headphones, smartphone satellite navigation systems whilst you are walking alone at night.
Taxi: Never use an unlicensed taxi. If the taxi doesn't has a meter, discuss fare before you get into the taxi to avoid misunderstandings when you get to your destination. Always leave the cab before you pay the driver. You can chat with the driver, however, do not give away any personal information.
Driving in the UK: As an international visitor, you must fulfill the legal requirements and correct procedures before you drive in England, Scotland, Wales or Northern Ireland. If you want to drive you can find information about the validity of your existing license at the British Government's website. For the first year of your stay in the UK, you can drive with a valid driving licence from your country or with an International Driving Permit. However, after one year you must apply to take a provisional UK licence and put 'L' on plates of your car. Until you pass your full UK driving test, a person with a full UK driving licence must sit with you whilst you are driving. To know more about UK traffic law, you can read it online at this website.
Cycling: Once you have purchased a bicycle, it is necessary that you purchase helmets, which meet British standard, use lights, wear fluorescent and reflective jackets. Do not listen to your mobile phone while you are on a bike. You can ask your institution about separate cycle lanes available.
Laws in the UK: It is illegal to carry drugs or substances with you of any kind, or use or supply any illegal drugs, including cannabis, ecstasy, LSD and amphetamines. You are also not allowed to carry any sort of weapon including knives, self – defence CS gas sprays, guns and stun guns. You should be 18 or over to buy tobacco and alcohol. The essential guide to the law can be found here.
Discrimination and Harassment: UK caters largely diverse and a great many religious and ethnic groups. Britain, by nature, is a tolerant society, which believes in the elimination of discrimination and promotion of equality between people. The nine protected areas are age, disability, gender reassignment, marriage or civil partnership, pregnancy and maternity, race, religion or belief, sex and sexual orientation. If you are subjected to any form of unfair treatment, discrimination or harassment linked to any of these areas, you can report it to your institution. You can also contact the Equality Advisory Support Service on +44 (0) 808 800 0082.
Hate crime: One can define Hate crime as a criminal offence which is perceived by the victim or any other person to be motivated by hostility or prejudiced based on a person's disability, race, religion, sexual orientation or perceived disability, or against a person who is transgender or perceived to be transgender. Hate crime can take multiple forms, including physical attacks, damage to property, abusive telephone calls, emails, postings on social media, verbal abuse
(including abusive gestures). You can report any such incident here.
Useful websites and Telephone numbers: The following websites and telephone numbers offers impartial information and support. Remember information and advice in most cases is free and confidential.
The emergency contact number is 999 and the non-emergency contact number is 101.
National Lesbian and Gay Switchboard: +44 (0) 20 78377324

NHS Direct: +44 (0) 845 4647

Refuge:(For women and children facing domestic abuse)

Samaritans: +44 (0) 20 7881 9440
The Samaritans provide confidential support to individuals in emotional distress.
According to the International Standards, UK is a safe country with low level of violence and street crime. The majority of the students have experienced UK as a safe place to be. Even though it's a safe place to be, you should be aware of the safety measures you can take to keep yourself safe and minimize your possibility of being a victim.
10 things to do in London this November